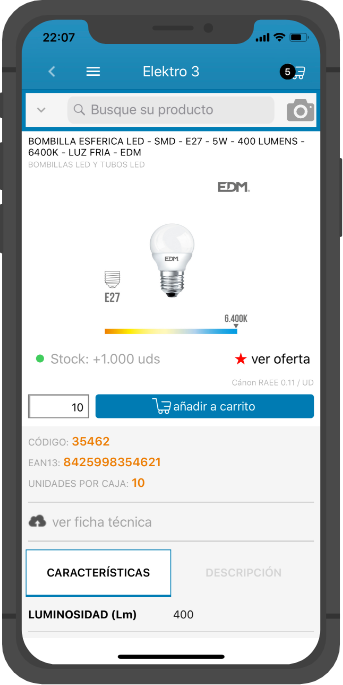 Elektro3Store app
In Elektro3 we put at your disposal an exclusive app for our clients with the objective of facilitating the management of your orders, invoices, etc. from any place and as if you were in front of the computer.
Your orders, now easier than ever
In a very simple way, you can manage all your order management that you make to Elektro3.

Products
Browse our product catalog as if you were in front of your computer, access the tab, save in your favorite list or send them to your cart.

Synchronized trolley
Do you have an order started on your computer? Then continue it from the app. The cart is synchronized in real time.

Barcode reader / qr
Use the barcode reader functionality to add an even easier product. Browse your shelves and with a simple photo add your products to the cart.

Offers
Consult the available offers and take advantage of them at the moment, do not wait to sit down in front of the computer.
All the information at the moment and in real time
The status of orders, downloading invoices, incident management or receive notifications of news and promotions from anywhere.

Order
Check the status of your orders, if they are on the way and when you will receive them.

Invoices
Access invoices, download them or send them by email.

News and promotions alerts
Activate the notifications and find out at the moment of our promotions and news.

Incidences
Send and track any incidents you've reported to us

Expeditions
Keeps track of open expeditions.

My reservations
Products ordered out of stock are stored here so you know when we receive stock and you can add them to your order.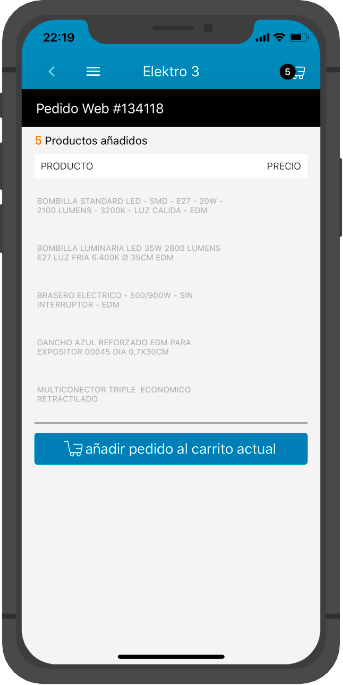 ---
Your account
Manage your contact and billing information, contact your sales representative and check your points to exchange for prizes.
Reconditioned
Consult our open products but certified by Elektro3 and take advantage of special discounts on these products.
Help
Do you have any questions about the app? in the help section we explain the operation of each section.
Catalogues in pdf
If you need to download any of our catalogues you can also do it from the app.