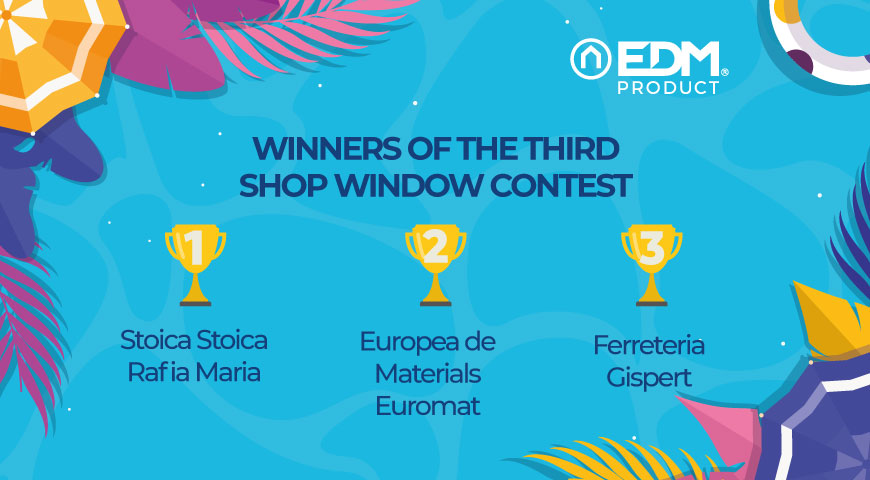 Winners of the third Elektro3 shop window contest
These are the winners of the third Elektro3- * EDM showcase contest
More than half a hundred professionals participated in the third showcase contest organized by Elektro3- * EDM for all its customers in Spain and Portugal, a contest in which, according to reports from the company, "there were showcases really very successful ".
Participants made their designs during the months of June and July, so for the decoration of their shop windows, many used summer themes, as explained by Elektro3- * EDM. "The results - they add - were very achieved."
Winning hardware stores
1. Stoica Stoica Rafia Maria (Zaragoza) .

2. Europea de Materiales Euromat, S.L (Girona).

3. Ferretería AB Gispert Sociedad Limitada. (Girona).
The jury, made up of Joan Vidiella, Marta Abella, Anton Mas, Joan Peláez, Harold Cortez, Alex Marcuello, Marta García and Aleix Caballero, assessed aspects such as the effectiveness of the shop window to attract customers' attention, promote sale, creativity and use of space.
"From the EDM design and marketing team we want to thank all the participants who have collaborated in our third showcase contest and therefore we value the effort and work of all the people who have dedicated their time to decorating their shop windows, "they point out from the company.
With this initiative, Elektro3- * EDM aims to continue to promote "the care and improvement of shop windows as a tool to boost sales in the trade," emphasize from the company. In fact, they add that, for the decision of the winners, they have taken into account "the shop windows that have caught our attention and conveyed to us sensations that would make us buy in their businesses."